Recent Headlines
9.10.02
Win a chance to see Claire live Sept. 21st at the World Peace Day Concert in Trowbridge. Check out the BBC Wiltshire page to find out how.
Look for Claire make a brief appearance on BBC's Clocking Off this autumn. Take a look at the wig she has to wear!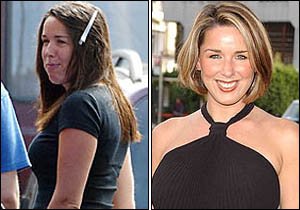 07.19.02
Claire has been in the public eye a lot lately to coincide with the release of her new album Claire. The album was released to mixed reviews but we are all entitled to our own opinion now aren't we? It's not bad at all for a first album. I hope Claire ventures in to make another one at some point.
Claire has been named Armed Forces Sweetheart and will be performing for troops all over the world in the following year. Claire has taken a flight in an RAF Tornado to help launch the Royal International Air Tattoo. Click Here to see pictures of her preparation for the flight.
Claire will be chatting with the Sun Online on Wednesday July 24th. Send in your questions now!
I've added more pictures of Claire taken when she was in her late teens and early 20's.
Recent Articles
07.03.02
My exclusive items are now uploaded and ready for viewing. To check out a few songs on Claire's new CD and to watch her new video Click Here. I don't have any information on the contest giveaway but I'll let you know as soon as I find out. To view the new photo gallery Click Here.
07.02.02
Exclusive #1- I have acquired a number of pictures taken of Claire before she became a celebrity! I was sent these photos by the photographer himself and he's kindly given me permission to post them on my site!
Exclusive #2- To coincide with the release of Claire's new CD I have been contacted by people responsible for the online promotion of Claire's new single and CD! I'll have links to listen to a number of tracks off the CD as well as a link to view Claire's new video for the single "When You Believe" right on my site! There is also a contest to win a few signed goodies from Claire herself!
Claire will be returning to Brookside later this autumn for a two week run. Let's hope the storyline doesn't pick up where the extremely quiet exit of Lindsey Corkhill left off!