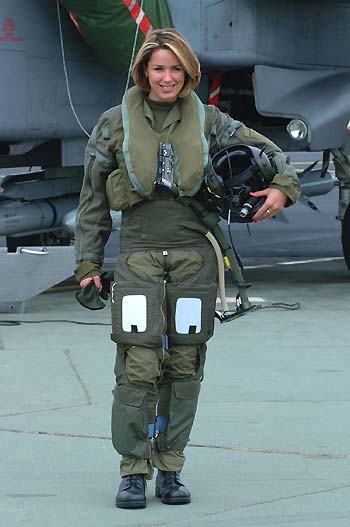 photos of Claire at RAF Marham courtesy of Joe Bridge
CLAIRE FORCE REACHES FOR THE SKIES
TV star Claire Sweeney's role as the Forces' sweetheart got off to a flying start yesterday on board a Tornado.
Dressed in a military jump-suit, the actress, singer and presenter was treated to the special flight before opening the world's biggest air show.
Claire and her pilot, Wing Commander Derek Watson, jetted over her home city of Liverpool before touching down at RAF Fairford in Gloucestershire to open the Royal International Air Tattoo.
Looking relaxed after her flight, she said: "It was amazing - just incredible and we did a few loop the loops but I felt very safe with Derek the pilot.
"We went over my flat in Liverpool and did a loop from 12,000ft with the nose down and I thought it must be how you would feel in a plane crash."
Claire, 31, later met veterans from World War II, the Falklands and the Gulf War.
The star of Brookside, Celebrity Big Brother and West End musical Chicago will perform concerts over the next year to Armed Forces around the world.