A Few Facts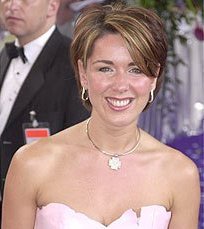 Name: Claire Jane Sweeney
Birthday: 17th of April 1971
Sign: Aries
Birthplace: Liverpool, UK
Parents: Kathleen and Ken
Siblings: Brother Shaun
Education
Elliot-Clarke Drama School


Italia Conti Stage School

***Claire's idol is Hollywood star and singer Barbara Streisand. She says she has seen the film "The Way We Were" nearly a hundred times.
***If she couldn't be an actress Claire's second choice would be a make up artist as she loved the special effects make-up used during the Millennium explosion on Brookside.
***Claire supports Everton FC
***Claire loves horses but is allergic to them
Until last March, Claire Sweeney was happily ensconced in Brookside Close, hiding her astounding vocal talents under a bushel! Now, her life has done a backflip.




What keeps Claire motivated?

"If I'm really, really enjoying the job that I'm doing, it motivates me. I'm really enjoying Challenge of a Lifetime. When we started filming, I would wake up each morning and actually look forward to going to work."

What was the most important recent event in Claire's life?

"Big Brother. It changed my life completely, so unexpectedly. I mean, you couldn't plan this. I expected to be back in Brookside, on the lookout for a musical, auditioning for musicals. I wouldn't have been doing Challenge of a Lifetime, which is fantastic. Now I'm based down in London and I'm renting a flat, but Liverpool is still my home. I like to get back and see friends and family as much as I can."

What is Claire like to work with?

"I think I'm quite easy-going. People give me advice and I listen to them."

Who in Claire's family is she closest to?

"My mum and my dad."

Which event from Claire's childhood has stayed meaningful for her?

"When I was 12 and at stage school, I won a prize for singing and I didn't know I could sing. All I knew was that I loved Judy Garland, Ella Fitzgerald, Frank Sinatra, Barbra Streisand.... I loved all of those singers as a kid. I'd just been to see the film The Way We Were, and that was the first time I'd ever seen Barbra Streisand, which was great - I love her - and Robert Redford, my first crush. And that's how I earned my living for two years, as a singer."

What are Claire's memories of school?

"Happy. I had a nice time at school."

What does Claire value most in her friendships?

"Trust."

When did Claire first fall in love?

"When I was 22, with my first boyfriend., and then a different type of love at 26."

What has experience taught Claire about making relationships work?

"Someone told me when I was younger, 'If you have sand in your hand and you just hold it right, it'll stay there. If you squeeze it too hard, it'll go through your fingers.' It's true. You've got to let each other live your lives and do what you do, and enjoy yourselves when you're together. And trust between each other is so important."

What makes Claire laugh?

"Different things, but I'm a nightmare when people fall over. I think it's hysterical. You've Been Framed really cracks me up!"

How does Claire cope with stress?

"I always have a cup of tea and then get into a nice hot bath and relax with my Radox."

How health conscious is Claire?

"At the moment, very. I'm really trying to look after myself. I'm trying to drink loads of water through the day to help clear the eczema on my face."

How does Claire cope with loss?

"I've only had one great loss as an adult.That was a friend of mine who died of AIDS about two years ago. And I coped because if he'd stayed alive, he wouldn't have been healthy, and he's gone to a better place."

Does Claire see herself as spiritual?

"I am quite spiritual. I'm a huge believer in fate, and I'm very intuitive as well. I listen to my instincts a lot. It could be the best job in the world, but if it doesn't feel right or something's telling me not to go there, I won't. I just open myself to my instincts."

Is there anything that Claire particularly regrets?

"No, because through everything you do you gain experience. It makes you stronger, and every experience makes you the person you are. So it's better to regret what you haven't done as opposed to what you have done."

Claire comes from a small family brought up in Walton, Liverpool by her mother, Kathleen, and father, Ken along with her brother, Shaun.

School wasn't exactly Claire's idea of fun and found school work a little difficult particularly Math but did well in singing and acting. Her first job had nothing to do with singing, dancing or acting though, as she worked as a butchers assistant in her fathers shop.
Claire trained at the Elliott-Clarke Drama School, Liverpool's premier stage school at the age of 11. But it wasn't like TV's Fame, in which students wore leotards and leg-warmers. Pupils had be in full school uniform, including hats and gloves. Claire went there because her mum Kathleen was determined that she wasn't going to the same school where she had fallen out with the headmistress 20 years earlier. "I owe my career to my mum," Claire says. "She didn't want me to go to the local comprehensive. "When she found out it still had the headmistress who had taught her, she said: 'I can't send you there. She made my life hell. She flattened my beehive in the Sixties!'"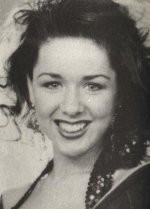 After leaving Elliott-Clarke Drama School, Claire won a place at London's famous Italia Conti stage school in London when she was 18. She began her career singing in cabaret on P&O cruise liners, including the maiden voyage of the Oriana. She was determined to be a singer after she left school and was booked up for a succession of summer seasons and pantos, before landing a brief appearance in Brookside as Lindsey in 1991. After her stint at sea, Claire felt it was time to come home and decided to write the producer of Brookside to see if there was a place for her on the show. It just happened that the day the producer got her letter was the day the production staff were meeting to discuss long term storylines so they decided it was time to bring back Lindsey Corkhill. Claire returned to work at Brookside in 1995.
Lindsey Corkhill, unlike Claire has had a very eventful life! Lindsey first made her appearance at the Close in 1991 when she came to see her parents Jimmy and Jackie Corkhill. As we all know, Lindsey only stuck around for a couple of episodes. Over the years we have seen Lindsey transform from a shy young girl who worked at the local chippie to a no nonsense business woman with gangster tendencies, to a would be gun toting gangster, to a beaten women who refused to
admit defeat, to a woman who is now trying to get her life back in order and being a mother to her always absent daughter Kylie.
After six years on Brookside Claire made a decision that would change her life. Claire along with five other celebrities took part in a celebrity version of big brother for charity in March of 2001. After being in the house for a week Claire emerged as the runner- up but came in first place in the hearts and minds of the nation.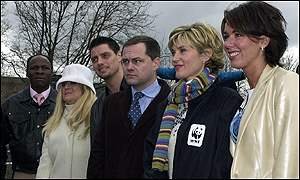 The actress who played bad girl Lindsey Corkhill in the Channel Four soap "Brookside" was a relative unknown. How different the story is a few days on. Claire is undoubtedly the toast of the town after managing to leave the "Big Brother" house relatively unscathed.
Of all the six housemates, she was the one who managed to give the least away - perhaps because there is little to reveal.
Since leaving the Big Brother house Claire has been on a whirlwind ride of a lifetime. Not to mention becoming presenter of the ITV program Challenge Of A Lifetime! When she's not crawling across cables attached to buildings, riding a bike on a bridge suspended 500 feet above a canyon or preparing to do any number of stunts should the guests back out, Claire can also be seen at the current model for Marks and Spencers bras.
Just recently a life long dream has come true for Claire. From December 3 she can be seen playing Roxie Hart in the hit West End musical Chicago. Claire made her last appearance.......for now, on Brookside in November 2001 and if her career continues on the upward climb they way it has in the last several months don't look to see her back anytime soon!
To be continued.............